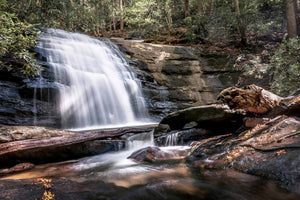 Secret Oasis
Regular price
Sale price
$315.00
---
Name: Secret Oasis
About the Photo:
A rumor, a treacherous drive, a moderate hike and no guarantee of success and this photo results.
I had been told of a beautiful waterfall, nestled deep in the Blue Ridge Mountains. One surrounded by trees, and the peaceful conversation of nature. Undisturbed by the workaday world, where life simply slowed down. 
This was the mission. I had heard a rumor of a secret waterfall, but I couldn't find it on any map. It was up to the bleak directions I had been given and a little bit of luck. But it would be worth it if I could find the place that fit the description.
Heading out, I was immediately concerned as the drive was more intense than expected. First was a dirt road that didn't look like it had been touched in 100 years. Winding its way up the side of a mountain, we climbed. The only reason we made it was because I have a fondness for off-roading vehicles.
Once parked, we located a small, unmarked trailhead, more of a deer path if you ask me. A few miles in and we came to a split. On a coin-toss decision, we carried on. As the day was fading, we were about to give up when we heard a small trickle of water.
With renewed motivation we moved deeper into the woods, pushing brush and limbs out of our way. A few more steps and we moved through a grouping of trees, like the forest was opening its door and allowing us in, we stepped through and found our: Secret Oasis.
Remind yourself of a more peaceful time by bring the Secret Oasis home, choose your size above and submit your order. I will ship it out ASAP and it should arrive in 6-10 days. 
MADE IN THE USA!!! – All my IMAGES are taken by MY PERSONAL HAND, with MY CAMERA and PRINTED IN THE U.S.A! This is MY PASSION and livelihood. Every photo has my CARE, LOVE and PERSONAL TOUCH creating pieces of ART that I hope makes you smile. Your SUPPORT means OUR SMALL FAMILY BUSINESS continues.

ALL IMAGES PERSONALLY TAKEN BY ME – My name is Will Simpson. My wife and I spend our time traveling around looking for unique photos. We strive to find ones that really create emotional impacts. Ones that make you feel you are experiencing that moment for yourself. 

AVAILABLE IN METAL – All METALs are printed on HIGH QUALITY, PREMIUM MATERIAL, using TOP OF THE LINE INK which creates a HIGH RESOLUTION image with SHARP ACCURATE COLORS. 

BRING GALLERY QUALITY ART TO EVERY ROOM – My Photos have been featured in GALLERIES, MAGAZINES and more. Decorating your home with one of my pieces will bring that same quality to you! AVOIDING those DREADFUL GALLERY PRICES! Having HIGH END FINE ART in your home will set you apart. Making the KITCHEN, BEDROOM, LIVING ROOM, DINING ROOM, OFFICE, bathroom, entryway, hallway, home theater, apartment, dorm, as well as above a fireplace, table, desk, TV, bed or couch stand out!

READY TO UPGRADE YOUR HOME? Since all the photos are taken by me, I take great pride in my work. My goal is that you are FULLY SATSIFED. I want YOU to feel as HAPPY as me when you look at the photos! If you are ready to UPGRADE YOUR HOME DÉCOR with GALLERY LEVEL FINE ART – SELECT YOUR SIZE ABOVE and ADD TO CART!