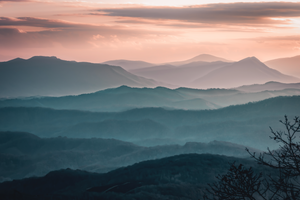 Perfect Blend
Regular price
Sale price
$315.00
---
ABOUT THE PHOTO: 
Grayson Highlands State Park, VA
A moment, when the light is perfect, the landscape is expressive, and the world seems to hold its breath. These are the scenes people love. These are what we strive to capture.
When those combine, on a landscape such as the Blue Ridge Mountains, you get magic. You get the Perfect Blend.
Printing Information: 
Images are infused into specially coated surfaces, providing the most durable and longest lasting print medium. The aluminum panels are extremely durable, offering scratch and abrasion resistance without hiding your image behind glass. Sublimation metal also offers the highest fade resistance compared to every other photo medium. 
Dye-sublimation printing is a computer printing technique which uses heat to transfer dye onto many materials. In order to transfer the image from the paper to the aluminum, it requires a heat press process that is a combination of time, temperature and pressure. The heat press applies this special combination, to "transfer" the sublimation dyes at the molecular level into the aluminum.
The images are fade resistant- the latest testing shows they will last a lifetime with resistance to yellowing and climate damage. They are chemical resistant- the surfaces can be cleaned with ammonia, bleach, acetone or any all-purpose cleaner. The images are also moisture resistant.
The aluminum is .045" thick and is finished with a float mount on the back for hanging. The Aluminum panels are lightweight, durable, and made with recycled material and 100% recyclable. 
Estimated Shipping Time: 3-4 weeks
For International Orders, Please contact us. 
Additional shipping cost will apply.
For additional print sizes or styles (canvas or framed) contact us directly.  
MADE IN THE USA!!! – All my IMAGES are taken by MY PERSONAL HAND, with MY CAMERA and PRINTED IN THE U.S.A! This is MY PASSION and livelihood. Every photo has my CARE, LOVE and PERSONAL TOUCH creating pieces of ART that I hope makes you smile. Your SUPPORT means OUR SMALL FAMILY BUSINESS continues.

ALL IMAGES PERSONALLY TAKEN BY ME – My name is Will Simpson. My wife and I spend our time traveling around looking for unique photos. We strive to find ones that really create emotional impacts. Ones that make you feel you are experiencing that moment for yourself. 

AVAILABLE IN METAL – All METALs are printed on HIGH QUALITY, PREMIUM MATERIAL, using TOP OF THE LINE INK which creates a HIGH RESOLUTION image with SHARP ACCURATE COLORS. 

BRING GALLERY QUALITY ART TO EVERY ROOM – My Photos have been featured in GALLERIES, MAGAZINES and more. Decorating your home with one of my pieces will bring that same quality to you! AVOIDING those DREADFUL GALLERY PRICES! Having HIGH END FINE ART in your home will set you apart. Making the KITCHEN, BEDROOM, LIVING ROOM, DINING ROOM, OFFICE, bathroom, entryway, hallway, home theater, apartment, dorm, as well as above a fireplace, table, desk, TV, bed or couch stand out!

READY TO UPGRADE YOUR HOME? Since all the photos are taken by me, I take great pride in my work. My goal is that you are FULLY SATSIFED. I want YOU to feel as HAPPY as me when you look at the photos! If you are ready to UPGRADE YOUR HOME DÉCOR with GALLERY LEVEL FINE ART – SELECT YOUR SIZE ABOVE and ADD TO CART!